Groups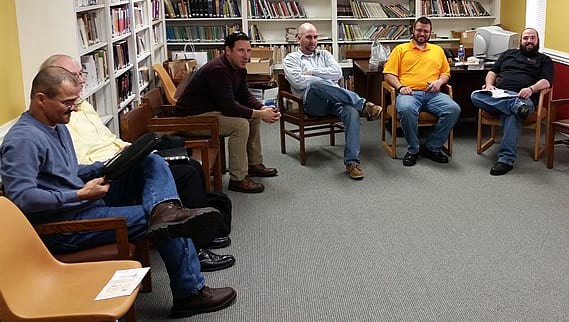 Sunday School – Sunday Mornings at 10 a.m.
Sunday School classes are groups that meet on Sunday mornings for you to find fellowship and community as well as to grow deeper in the knowledge of God's word and life.
Sunday school classes meet every Sunday prior to our worship service.
Wednesday Night Bible Study and Prayer Meeting – Wednesday Evening at 6:45 p.m.
Every Wednesday night, we meet to discuss parts of God's word verse by verse in order to understand it and apply it to our lives. This group is always open and is designed so you can jump right in at any time!

Embrace-Women's Tuesday Night Small Group – Tuesday Evening at 7 p.m.
Our ladies meet every Tuesday evening to discuss God's word as well as study books together. Although we often utilize books for this group, it is still always open and you can join up at any point.
Baptist Men – Monthly
The men of the church meet once a month for Bible study, a meal and fellowship. Sometimes we also have a guest speaker and we use this time to plan projects for the men to complete.
Community Groups – 1st & 3rd Sundays at 6 p.m.
Each group chooses what they want to study from a book or a book of the Bible. Groups meet in homes or at the church.
Quilters on a Mission – Monday Mornings at 10 a.m.
The group meets downstairs, to make tied quilts. We make twin size quilts, lap quilts and tote bags for those in need. For those who would like to help but cannot come to the church, we have projects that can be done at home. Contact the church or the quilters if you or anyone you know who needs an item from the quilters or would like to help.
Pastor Prayer Time – Tuesday at 10 a.m.
This time is set aside for anyone to come to the church to pray and share with one another.